Schools
Schools
For schools
De Kijkuit Outdoor sport offers different activities ranging from 2,5 hours to a full day (5 to 6 hours). The programme is arranged to suit your needs in the best way.
Usually the activities start at 9h and last till 12h. Lunch break from 12h to 13h. The activities restart from 13h until 16h.
Schools
Inspire your pupils to cooperate, push their limits and take responsibility! This is exactly what children and youngsters do during the activities we offer.
The challenges not only heighten their level of autonomy, they also improve group dynamics, it proves enriching to both students and teachers.
We offer different activities for all ages. Younger students can venture out on our BMX trail and our low ropes course, while older boys and girls are challenged on the high-up ropes course.
Every program takes half a day. For a full day, a combination of different programs is being made.
On request, De Kijkuit can provide a balanced meal to enjoy in between efforts.
Contact us and we tailor a field day according to your wishes.
Please find several programs suited for schools below, which we can combine without any problem.
---
Outdoor sports half a day (±3h):
Program 1: low ropes course, BMX and archery
Program 2: high-up ropes course, climbing wall, death ride and archery
Program 3: kayak on site
Program 4: kayak trip to Moerbrugge or to Bruges
Program 5: mountain bike trail
---
­
Outdoor sports full day (±6h):
Combination: For a full day, a combination of the programs mentioned above can be made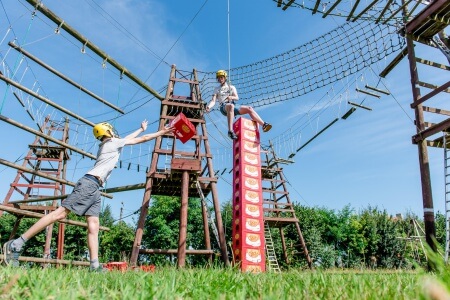 Catering
We provide food and drinks, both in the restaurant, the outdoor bar and the big party tent. Cooking can be done according to your wishes.
Camp at De Kijkuit
Your organization can make use of all of Kijkuit's facilities and build a big summer camp together with us. We load your schedule full of activities and take care of the catering for the hungry souls.