Archery

Archery
Groupactivity
You can book this activity as a group. Kijkuit offers multiple possibilities and  tailor-made packages for your company or club.

Session
You can also book a session of combination archery and crossbow shooting. Here we provide a basic explanation, the necessary equipment and a guide.
€12 per person / hour (minimum 10 people to pay)
Right on target!
This is a classic outdoor activity. Armed with bow and arrow, you venture into the woods where you learn the tricks from professional trainers. After having practised, you can prove yourself in a contest. Maybe you'll be the first to hit the bull's eye?
In our tent, you can test your skills with a real crossbow or catapult where we teach you how to use them efficiently. Nothing as thrilling as drawing your bowstring and launching a missile. Right on target!
Book a program including archery.
Follow us on Facebook to stay up to date with the latest news.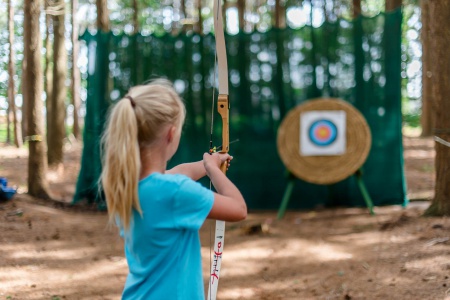 Catering
We provide food and drinks, both in the restaurant, the outdoor bar and the big party tent. Cooking can be done according to your wishes.
Camp at De Kijkuit
Your organization can make use of all of Kijkuit's facilities and build a big summer camp together with us. We load your schedule full of activities and take care of the catering for the hungry souls.