Birthday Parties
Birthday Parties
Birthday party
A birthday party at The Kijkuit is ideal for medium to large groups.
The Kijkuit Outdoor Sports offers various activities. The layout of the day is done in consultation, depending on your wishes or needs and preference of activities.
As standard, a full day lasts from 9 a.m. to 4 p.m., with a break between noon and 1 p.m. Activities last either half a day (2 to 3 hours) or a full day (4 to 6 hours).
Party time!
We offer activities suited for children of seven years and older. Celebrating with all their friends during a wild day at De Kijkuit: yes, you can!
For the little ones we have special climbing racks, smaller bows and a child-friendly obstacle run. That way, we throw them and their friends an unforgettable (birthday) party.
Fancy hotdogs or tasty pancakes afterwards? Combine this festive outdoor day with the catering of Kijkuit and you'll have nothing to worry about.
Contact us for more information. We gladly go into the possibilities that suit your party best. Below, you find you find different programs, perfect for kids. Combinations of those are of course possible.
---
Lasershooting
Compete with each other during our laser shooting and take out the other team. Communication, tactics, aiming and hiding are important!
---
Outdoor sports half a day (2 to 3h):
Program 1: Low ropes course
,

BMX and

 

archery

Program 2: High-up ropes course, climbing wall, death ride and archery

Program 3: kayak one site
---
Outdoor sports full day (4 to 6h):
Combinatie: For a full day, a combination of the above-mentioned programs can be made.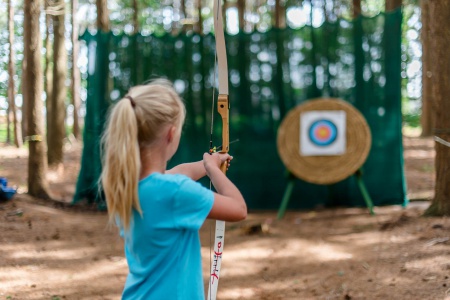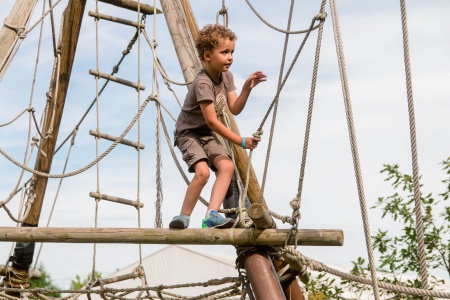 Catering
We provide food and drinks, both in the restaurant, the outdoor bar and the big party tent. Cooking can be done according to your wishes.
Camp at Kijkuit
Your organization can make use of all of Kijkuit's facilities and build a big summer camp together with us. We load your schedule full of activities and take care of the catering for the hungry souls.