Ropes course

Ropes course
Group activity
You can book this activity as a group. Kijkuit offers multiple possibilities and  tailor-made packages for your company or club.
Don't look down!
This high up ropes course is part of a thrilling program. It invites you to climb a construction of poles and ropes meters above ground. Do you dare pushing your limits and walking across the highest bridge? Or do you prefer to stay closer to the soil? There's a lower ropes course, suitable for younger participants.
Whether you join a field day with school, a teambuilding event with your company or an active day with your friends or club, at De Kijkuit you can always enjoy yourself.
In both ropes courses, safety is the absolute priority. Every climber is provided with a safety belt and professional supervisors steer everything in the right direction.
Contact us for information about your group activity and organize your perfect day full of sports together with De Kijkuit.
Follow us on Facebook to stay up to date with the latest news.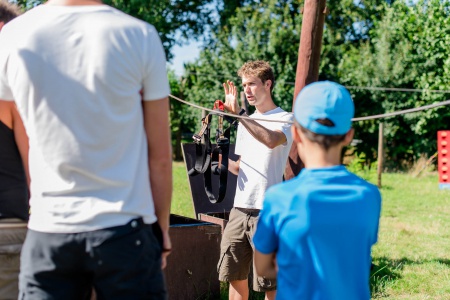 Catering
We provide food and drinks, both in the restaurant, the outdoor bar and the big party tent. Cooking can be done according to your wishes.
Camp at De Kijkuit
Your organization can make use of all of Kijkuit's facilities and build a big summer camp together with us. We load your schedule full of activities and take care of the catering for the hungry souls.