Pedalo
Pedalo
Rent a pedalo without making a reservation
In July and August, you can rent a pedalo every day between 10 a.m. and 6 p.m., without reservation. Feel free to ask for your pedalo at the bar.
€ 25 / hour
Only for 2 adults or 2 adults + 2 children up to 12 years old
Lifejackets included
Contact us for more information
It is not possible to book pedalos.
| In July and August, every day from 10am to 6pm | During the year | With a group |
| --- | --- | --- |
| Ask for your pedalo at the bar | Make a reservation via 050 78 15 53 | Not possible |
Pedalo in Beernem!
Back again! Enter the canal Gent Bruges with a pedalo. Float around and enjoy the silence of the water at the bicycle bridge or go into the old canal arm to enjoy nature. The pedalos are suitable for a maximum of 2 adults and 2 children up to 12 years old.
Do you feel like having fun in the water on a beautiful sunny day in July or August or do you decide last minute to pay us a visit? No problem, the pedalos can be rented during the opening hours of De Kijkuit. Ask your pedalos at the bar.
Follow us at Facebook to stay up to date with the latest news.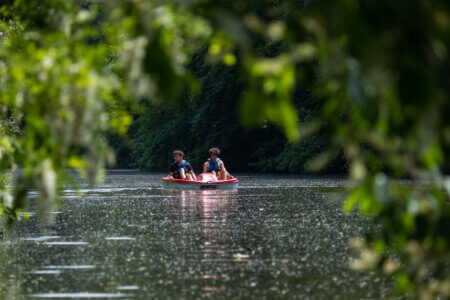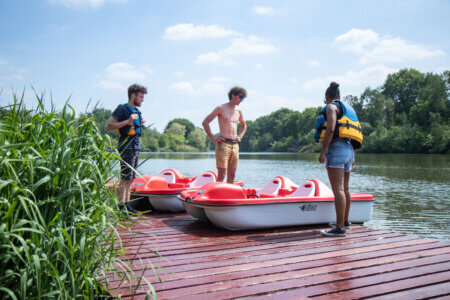 Catering
We provide food and drinks, both in the restaurant, the outdoor bar and the big party tent. Cooking can be done according to your wishes.
Camp at Kijkuit
Your organization can make use of all of Kijkuit's facilities and build a big summer camp together with us. We load your schedule full of activities and take care of the catering for the hungry souls.