Pedalo
Pedalo
Prices
Free to rent during opening hours
€ 25 / hour
Only for 2 adults or 2 adults + 2 children up to 12 years old
Lifejackets included
Contact us for more information
It is not possible to book pedalos.
| Outside opening hours | Every day from 11h00 to 17h00, reservation not possible | With a group |
| --- | --- | --- |
| Not possible | Ask at the bar | Not possible |
Corona virus measures
Pedal rental is only possible between 11h00 and 17h00 for the time being. Reservations are not possible.
A few rules for a smooth and safe process
Our dressing rooms and showers are CLOSED so make sure you're dressed at home
The toilets are accessible, where you will also be able to wash and disinfect your hands
Drinks can be purchased TAKE-AWAY. Under no circumstances may you consume them on the domain of De Kijkuit!
Kayaks, pedalos, SUPs, paddles and lifejackets are disinfected before and after each use
Rental of pedalos is only possible for people from the same family
If you sneeze, cough, catch a cold or make a fever, you stay home and save lives
Continue to apply the known corona measures such as distance, hand hygiene, …!
The pier is, as usual, only accessible for customers
New! Pedalo in Beernem!
Back again! Enter the canal Gent Bruges with a pedalo. Float around and enjoy the silence of the water at the bicycle bridge or go into the old canal arm to enjoy nature. The pedalos are suitable for a maximum of 2 adults and 2 children up to 12 years old.
Do you feel like having fun in the water on a beautiful sunny day or do you decide last minute to pay us a visit? No problem, the pedalos can only be rented during the opening hours of De Kijkuit. Ask your pedalos at the bar.
Follow us at Facebook to stay up to date with the latest news.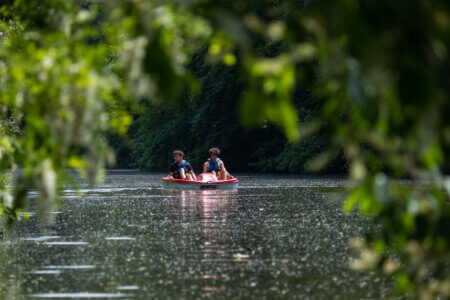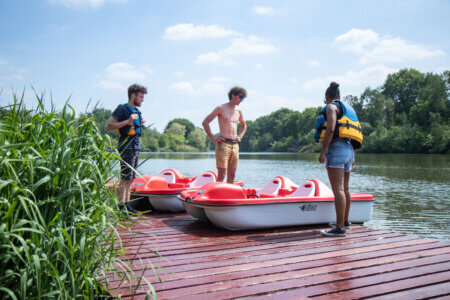 Catering
We provide food and drinks, both in the restaurant, the outdoor bar and the big party tent. Cooking can be done according to your wishes.
Camp at Kijkuit
Your organization can make use of all of Kijkuit's facilities and build a big summer camp together with us. We load your schedule full of activities and take care of the catering for the hungry souls.